Past Puppies
Holli traveling to Florida from Tennessee
Holli at home in Florida!
Hey Traci, we made it home. She did awesome in the car we were very impressed! She is eating and drinking very well. We haven't had a bit of trouble with her. I got the list for things to do the first days. Thank you! And thanks again for working with our schedule. I will keep you updated as she grows.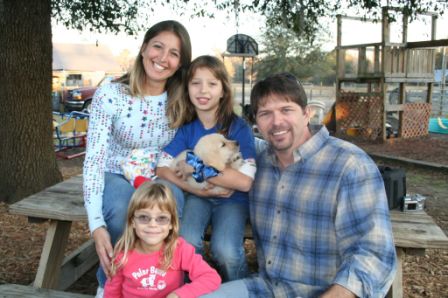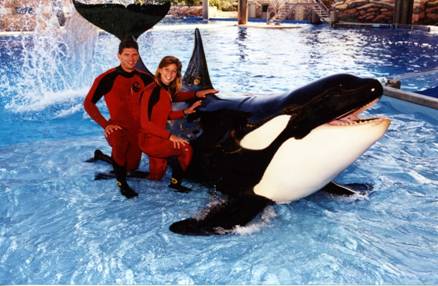 Mark and Alyssa with Luna
Mark and Alyssa are retired SeaWorld Trainers- the info in the letter below is good information for positve crate training and potty training.
Traci,
I'm in disbelief this morning…last night, we got home – great ride, she was a gem…we had everything set up, got her water, dinner and did all her business outside. Then we played for awhile and she was just bushed. We got home about 9 PM and were up with her until about 12:30. Over that three hours, in between play, we reinforced her in the kennel with rubdowns, a kibble or two and just play several times. We shut the door a couple times and brought her right back out for being calm. Also – each time we took her out to pee or other – we walked her to the door and reinforced her for going in the yard (designated spot). Alyssa also worked "sit" with her last night and a little during play this morning.
Last night, when we went to bed (and had put her in the kennel – next to our bed), she whined for about 20 minutes – then gave up and went to sleep. I got up at 3 AM and took her out (she was asleep when I picked her up from the kennel) – she did her business immediately and we went right back to the kennel and to sleep. This time she moaned once and went right back to sleep. I did the same thing again at 6 AM – she knows the routine – did her business as soon as I set her down outside – reinforced her on the spot and took her back to the kennel for a short while. She went in the kennel and laid down and didn't make a peep. At 6:45 – Alyssa got up and took advantage of her being calm (at this point she was awake and sitting up in the kennel – but not whining or distressed in any way) – Alyssa reinforced her in the kennel and took her out to potty then play in the house for awhile.
By the time I got up 45 minutes later – Luna was playing with Alyssa and sitting on request (signal "sit") – also, when we were playing this morning, Luna went to the door and scratched the door – I immediately took her to the business area of the yard and she peed again. I was blown away – she's already getting it. So far – no accidents in the house…
Also, this morning, she voluntarily went into the kennel and laid down. I couldn't help but send you a picture of this – we are feeding her and putting her water in the kennel while we're watching her – pairing primary reinforcement with the kennel – but take them out when she has to stay in the kennel.
We're already deeply in love and having a blast with her amazing ability to learn so rapidly. I'm sure we'll have a little regression, but that's natural and expected. I'm just in disbelief that she's already "getting it". Smart kid.
We had so much fun at your place – the girls talked about it most of the ride home. Thank you and God Bless.
Best,
Mark

Guide Dogs of the Desert from California purchased male Stryker puppy for their program.

Kuhl Family with Chief
Chief playing with snowballs…
This family is volunteering with Patriot Service Dogs to raise one of our Country Goldens as a Service Dog. They live in Northeast Florida, but took a vacation north for Thanksgiving… Chief LOVED the snow!
Thanks Kuhl Family for taking such great care of our puppy and for making a difference in the life of a Veteran some day!
Together we can make a difference!

Choosing the right Country Golden puppy is not alway easy… but it is ALWAYS Fun!
Guaranteed to fit, right in your arms… awww…

"Coda is all settled in with the Veazey Family
"Crystal" with her new family (Georgia/Mac pup)This page is for previous Country Golden Puppies and their new families-
So if you have purchased a Country Golden Golden Retriever Puppy, we would love to add some pictures of your Country Golden to our special page.
Also, anything that you would like to write about your experience in dealing with us, or just something wonderful or unique that your pup has done or is doing that you want to share, would be welcomed!
We also would like to say THANK YOU for loving and caring for our precious pups!!!
Please stay in touch and send us pictures so we can watch them grow too…
***Be sure to Scroll all the way down to view ALL of this page***

Maggie Rose and Chloe
Friends Forever
Dear Traci:
First and foremost I want to thank you for your unquestionable integrity. I was very impressed from the first time that I contacted you about buying a golden. I was further impressed at all the pictures and e-mails you sent as our family waited for the puppies to grow and finally when we came to pick out our own puppy. We will always remember that day.
Your children are wonderful! Your family is a great example of individual responsibility and what can come from people that take care of their own.
Thank you very much for what you have done for Maggie. We have put that money towards her treatments.
I also appreciate (and sincerely believe) your offer to give a good home to Maggie. However, I am very happy to say that she is such a big part of our family, she has become such a loved member and a part of "us" that we could not possibly part with her. She is Chloe's world and such an important member of our family. Both Donna and I love her as much as Chloe does…she is a part of the family.
We are going to do everything that we can to make sure she has a wonderful life. I know that you will appreciate that better than anyone. Thank you again for being so amazing throughout all of this. I can not say enough about you – Thank you!
I bragged about Country Goldens and your family when we first found Maggie – I have bragged even more about you since this latest event. You give me hope for this country and you also inspire me to try to be as worthy. I will keep you posted and I will look forward to your advise. Thank you again – please tell your children that we are very impressed with them and we appreciate all the work and care they gave all those puppies. We are very lucky to be able to care for Maggie and she is very much loved.
Very, Very Impressed,
-Danny P.

"Flash" is now a permanent member of the Pozo family.
Flash was the perfect Christmas present

"Coda" snoozing with the kitty
"Coda" with his new Big brother Utah.

Our Famous Puppy- "Cadillac"              Cadi and George
Cadillac, also known as Cadi, was purchased by the owner of Peace River Campground in Arcadia, Florida. George contacted me, and decided that Cadi was going to be his next best friend. After all Cadi and George shared the same Birthday, surly it was meant to be……
Anyways….. Peace River Campground needed a new bill board after a hurricane damaged the old one.Since the motto for the campground is "dogs, kids and campfires" George decided to use a photo of his beloved dog Hal, who passed away last year. His sweet little yorkie, Molly. And of course CADILLAC!!! Pretty Neat!
You can learn more about George's Place by visiting www.peacerivercampground.com
Then stop by Peace River Campground and see Cadi. Tell him Country Goldens sent you!!!!

Cadillac getting big!     Val and Guy with "Zaria"
Hi Traci and Bill:-) we hope you and the kids and all of the wonderful animals are doing well. This is just a note to thankyou for everything. For all of the photos you emailed prior to us picking Zaria up, for welcoming us into your home and treating us like family, for all of the great advice and recommendations and also most importantly for your kindness. We will be forever greatful to you:-)
Zaria is doing very well. She is such a friendly and happy little pup. We know for a fact that we are spoiling her:-) but it's so hard not to………she's soooooooo cute and sweet:-) We got her a puppy crate on the way home and we put her in there at night and when ever we leave the house and she's doing very well. She's our little baby:-)
We took some photos of her but we haven't transfered them to the computer as yet but we'll email them to you soon.
Once again, thanks so much for everything and if you ever want to chat or check up on Zary, please feel free to give us a call or send an email.
Take care.Val and Guy

Jake with his new family   Jake about a year old.
Jake is doing great. Started "school" last Thursday. The trainer said he is a smart dog and will train easily. Said he will test his limits because he is smart, but that he will train well. Jimmy is the one doing the most of the training as we were told Jake will respond best to one person. Once the skill is mastered, we will be a part of the training as well. But, Jake is already showing a response to any of us who try out the training tips on the sly! Jameson is great with him! Jimmy is very diligent about his "sessions" with Jake! They have their own little bonding time in the garage a couple of times a day! Jake is doing very well in the crate, too. Very impressive. Very routine. I think he was the perfect pick for us as we take him to the park every now and then and there are a handful of kids who come up to pet him. He doesn't seem to mind at all. Mouths a bit, and at that point we just pick him up and put him in before he gets too overwhelmed.
The vet said Jake's a fine dog, also! Our vet is very excited about us having a puppy! He was all smiles when he came and met Jake for the first time.
-Jill

"Bruno" with new family"
Bruno of Hollywood at 6months old)Dolly and Jasper puppies with their new families…

"Savannah"
Savannah…Lovin' life!Savannah is doing great. She goes to the vet tomorrow for her first shots. She is growing and learning to do so much. She already sits and shakes a paw. She is doing pretty well with laying down on command. Potty training is going well, only a few accidents. She has the greatest personality. I am sending a few pics of her.
Denise

"Boomer"     "Bo"

Kate and Mac puppy 2009    The Donahoo family (Georgia /Mac pup)

Jim and Debbie with new pup "Finnigan"
"Finn" 10 months old (Georgia/Mac pup)Hope this finds all of you well. We just got back from Tennessee seeing all the horses. Finn loves to travel, and really enjoys being on the go. Got to see some snow, just a little, but nice for a change.
I am sending a picture of Finnegan on his 10mos birthday, he is really a sweet dog, and is starting his training at the Tallahassee Kennel Club and is doing pretty good so far.
Just wanted you to see one of your "little boys" he now weighs 86 lbs, and is doing just great.
-Jim

"Moses" with his new family.
A boy and his dog!

Bailey and McGyver   Madison
Hi Traci – Hope you had a good weekend. We are absolutely over the moon and completely in love with our new girl! We named her Madison (aka Maddy). She is such a terrific dog. She is doing really well in the crate at night and we've only had a few accidents in the house. I think she has already learned her name and we are working on sitting. I've attached a few photos.
We went to the vet on 1/16 and everything went great. She slept for most of it because she was so tired! We'll go back in two weeks for her next round of shots.
Thanks again for everything – we so appreciate you! 🙂 I'll be back in touch after she has been spayed, which will probably be around the 5-6 month mark.
Take care – Billy and Amy
\

Wrigley (Mac/Birdi pup)    Wrigley hosting his first party.Here are some pictures of Wrigley – it seems like every time I took some, he would gain 10 lbs. He might even grow into those giant bear paws one of these days! Dr. Lehrman calls him "calendar puppy" – I'm sure you can see why 🙂
We go to the dog park almost every day, where he loves to play with other SMALL dogs – if he could talk, I am pretty sure he would ask for a Jack Russell for Christmas. He swims like a fish. On weekends we go to Tampa and he plays at the dog beach in the waves. The first month he hid between my legs any time a dog looked at him, now he runs to the water the second we get in the gate, not thinking twice about his mom. Very confident little puppy!
I also attached a recent picture — we had a wine & cheese party at our home and Wrigley entertained. I get so many compliments on him everywhere we go.
Anyway, I love my furry child. I have recommended you to everyone who asks me where I got such a beautiful GIANT golden. Thank you for doing such a fantastic job!
-hannah

Maxy (Mac and Birdi pup)     "Maxy" about 7 months

Becker and family
Traci, we just wanted to drop you a note with some recent pictures of Becker. And he wanted to say some words too.
Becker:
Hey Traci, hi kids! I miss you all and hopefully I can see you soon. But not to worry I am doing great although I am teething and it is a little uncomfortable I am behaving really well. My mom buys me delicious bones I can chew on so I decided to leave her shoes and furniture intact! Everyday the neighbors come let me out and play with me while my parents are at work, it is nice because sometimes I really have to go potty. I am almost housebroken, and I have not had an accident in 3 weeks! I know this because my mom is always bragging about it to the other parents! When my parents come home from work we go on walks. Somedays we make it far (4 miles) but on hot days we just go up to the park and play. One of my favorite things to do is to take a bath, they don't happen very often so I really enjoy them. It took me a couple of times to get used to the noisy thing that dries my hair but I prefer it now so that I don't get an earache. On cold and rainy days I like to cuddle and take a nap. I have all my commands down, but mom insists that I go to school, so we will be starting class after my last doctor's visit. Among all the learning I have been doing, I also travelled a lot. We went to the beach, camping, to Orlando, and to Uncle Chris' house. That's where I learned to swim. Funny story… when I first jumped in the pool, mom got so scared that I wouldn't know how to swim that she (with all her clothes, shoes, jewelry on) jumped to "save" me, haha, by the time she got to me I was already swimming. She was a little embarrassed, she says "I haven't read the chapter about puppies being natural swimmers yet". I also learned some Portuguese when my grandparents came to visit, "senta" means "sit". I am becoming a bilingual puppy. But let me tell you my all time favorite things: milk bones, peanut butter and being brushed! Well, I have to go take a nap now.
Woof, woof, Becker
We hope you enjoy Becker's pictures!
Love,
Daniela and Marc

Mac and Birdi Pup    Rylie 1 year old.
Traci
I am writing to say hello and send you a quick update. Rylie is doing well she has grown so quickly. On February 6 she'll be 8 months. She has been a wonderful dog. She is very well behaved and so smart. She has been such a joy to have. I sent a picture of us at Christmas that we used for our Christmas Cards. I hope all is well with all of you. I saw the pics you updated on the internet. That dog Wrigley looks so much like Rylie. Take care and thank you for an amazing puppy!!!
Thanks again,
Angela
———————————————————————————————
Traci
Just thought you'd might like to see a pic of Rylie; today is her first birthday. She has turned out to be a very good and very big girl. We just moved to a house of our own. We now have a screened pool and a yard that is fenced in. The ironic thing is the day we moved in, we met our neighbor. He is a 3 year old golden named Bailey. I will send pics of them playing together soon. I hope all is well with you. She has been a great joy to my life and is a wonderful dog. Attached is her first birthday pics.
Thanks,
Angela

Buying a Country Golden is a family affair!
"Lucy" Mac and Birdi pup
Here is a picture of Lucy Lee. She is 55 lbs. already! She is gorgeous! Everyone loves her sweet personality, too- very friendly and affectionate. Great dog 🙂

Chelsea having a bit of fun!
Chelsea ( Dolly/ Mac pup)

Molly (Mac and Birdi pup)
Thought I would let you know that I had a dog trainer out again and he was VERY impressed with Molly. Her temperment is remarkable!!! She is the sweetest dog. He kept going on and on about how hard that is to find in dogs these days with such bad breeders. As he put it she is the perfect Golden…and he wanted us to know we got a great dog and felt great about that because so often he has seen people buy expensive dogs and as he puts it "get crap". Anyway I wish I was the shutterbug you are, but I promise I will get you some pictures this week of Molly.
Take care,
Marylis

Bear and Kelly with "Toby" (Mac and Birdi pup)
Hey Tracy,
Yes we are doing well. Toby is soooo big. Crazy thing happened, at the end of march i was traded to the texas rangers and right now we are in california playing. I have had numerous people come up to me and ask me if we are going to show Toby in shows cuz he is such a beautiful dog. My face just lights up when people say that. we have him on Natrual choice large breed dog food with glucosamine and chondroitin for healthy joints and he seems to love it alot. Toby is 55 LBS. right now and still growing. cant believe how big he is right now. We are so happy we found yall, we think of him as our son. Not even joking bout that in the slightest bit haha. i am attaching some pictures of a few days ago when we went to huntington dog beach by Los Angelas. He LOVES the water and chases his tennis ball in the water, jumping over the waves.
Hope yall are doing well, and tell the kidos we said hi.
Thanks a million,
The Bays

Leigh and Ken with "Baby Girl" (Mac and Jenna pup)
"Makenna" – Mac and Jenna puppy

Missy (Mac and Candy pup)
Missy
Missy is a typical Mac puppy… she carries his beautiful head, color and temperment. She is high energy outside and loves to play fetch and swim. She is smart and very obedient. Always wants to please…

Maxy – Livin' Life… Golden Style    Gorgeous Boy!
Hi Traci:
I wanted to tell you what a blessing Maxy has been in our lives…he's the most incredible dog I've ever had…and I wanted you to know that when that terrible time comes when Maxy will be old…I will want another golden retriever just like Maxy, from your breeding dogs…thank you for choosing him for me.
All the best
Marzia