Our Photos
Click on the Photo to see it full size.
Everybody loves our Country Goldens…Lisa in Waynesville fell head over heals for our little girl.
Customer at Bass Pro Shops… our puppies are so easy going even with a total stranger.
We took a little road trip to Waynesville North Carolina and took a Country Golden Puppy with us… She made lots of Friends, got to go to the Dog Bakery, and even got to meet Santa! We even stopped by the Bass Pro Shop in Sieverville for a little hunting and fishing…and socializing… 🙂

Country Golden Puppy gets an invite to the DOGGIE BAKERY!
Traci and Pup meet Santa in downtown Waynesville

Mass General Store in Waynesville loves our Country Goldens.
Our puppy meets working Service dog in General Store.

All the photos below this point are from when we lived in Florida! Here in Florida, it gets pretty HOT! A golden retriever has to get pretty creative to keep cool! ENJOY these photos!

Who put the puppy in the Fridge???

Yes- that is the KITCHEN water bowl!
Katie waiting patiently for her bath…

Our dogs do have kennels for the simple reason that it is important that they are trained to be content even when confined. Also, our place is very active and sometimes the dogs just need a break. Our dogs spend small amounts of time in thier kennels because we feel it is extremely important that they be well socialized and a part of our everyday family activities. Plus these dogs need lots of exercise which they get here on our 5 acre farm. Most of thier day is spent romping in the pasture, fetching the tennis ball or just plain snoozing under an oak tree.

Chillin' out inside
Pheobe 3yrs and Georgia 14 mo

Baby goat getting the "Golden Treatment"
Is that Georgia in the Rabbit hutch????? You betcha!The Golden's love everybody here on the farm. I wish I could say the same for the other animals and how they feel about the Golden's. Georgia especially will lick anything and anybody. She has been caught in the rabbit hutch "smootching" on the bunnies….. How did she get that door open??????

Dolly in her favorite spot… under the stairs
Dolly is enjoying her retirement….. She loves just being a farm dog!

Julie drinking from the sink- better than the toilet…..right???
Moses hanging out in the tub!

Katie- snoozing with the goats…
Mac and Georgia 3-06

Georgia Peach- 19 months old
Dolly "the nanny"… she loves the puppies!

Dolly and Boots taking a nap
Dolly enjoying her retirement… ahhh the good life!

Missy (Mac puppy)
Missy 18 months old
Missy is a beautiful Mac puppy. As you can see, Mac passes his fine qualities on to his offspring. Missy carries her daddy's fabulous head piece and color as well as his amazing temperment… She is a fine girl… High energy and very obedient.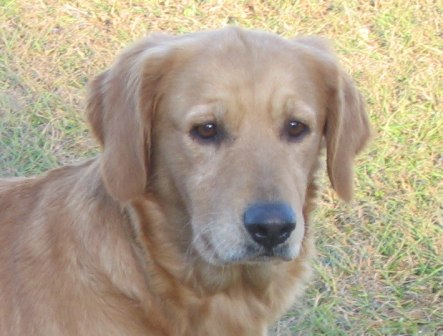 Dolly is "Gracie Kate's" mom