Country Goldens Gracie Kate
Sire: Showboat's Jasper Jacks
Dam: Deb's Cool Water Dolly
Whelped: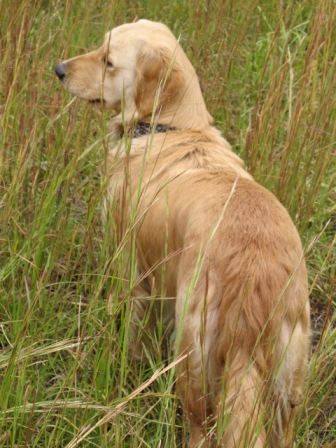 Kate RETIRED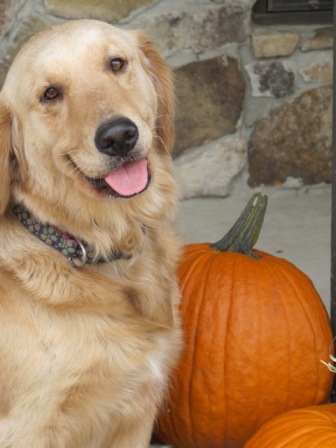 Kate Fall 2010
Achievements:
Kate is a lighter color and has beautiful black pigment on her face. She is well tempered and easy going. Her mom was our Dolly. Her sire is Jasper Jacks out of Georgia. Kate has her Hips and Heart cleared with OFA and her eyes with CERF. Kate is a wonderful mother and is extremely loyal and committed to our family. She is an amazing girl with a very laid back but fun personality.
Kate's Pedigree is below with a continuation of her sire's pedigree at the bottom of her More Photos page.
Pedigree of "Country Goldens Gracie Kate"

Parents
GrandParents
GreatGrandParents
SIRE

Showboat's Jasper Jacks      

TK's Levi of good fortune

 CH. Pekay's Have Gun will Travel

Pekay's Splash of Good Fortune

Showboat's Jasper Lolly

Shilo's Footprint

Mity Heidi HO

DAM

Deb's Cool Water Dolly

Shadow Jones

Rem-Shot Whitten

Miller's Golden Lace

Ella's Fay

Cool Water Dusty Howington

Kris's Sunnie Daze Dazzle
Gallery for Country Goldens Gracie Kate
| | |
| --- | --- |
| | |
| Kate sleeping in the bean bag in our new home in TN. Dec. 2010 | Kate really has a rough life here in TN. |
Kate is our couch potato… can you tell??? She loves to SLEEP!
Actually she earns all that rest. She spends most of her day one step ahead of the kids, keeping a watchful eye on everyone. Kate is an extremely loyal and attentive dog. She is VERY LOVED, and appreciated! Her commitment to us is rewarded with the best sleeping spots in the house… 🙂 So far, she has not complained.
| | |
| --- | --- |
| | |
| Kate out in the big field. | Fall 2010 |
Kate has been with us since the beginning… Her mom was Dolly.
Kate was one of the first pups we delivered and decided to keep and give the name Country Goldens to. She was "Country Goldens Gracie Kate"…Named after my daughter Grace that she shared a birthday with. She was born on the same day as Grace, at almost the exact same time, making her special from the very beginning. She has been a part of our family and our breeding program for many, many years and has a very dear place in all of our hearts. Especially my oldest daughter… Just like her mother, Dolly, Kate was Veronica's constant companion.
In January of 2018, Kate passed away in the mountains of Tennessee, living life well and enjoying her days walking the fields and rolling in undesireables. 🙂 She lived life to the fullest and spent all her time keeping up with "the Kids" by day and laying on the couch by night. She had a great personality and plenty of love to go around. She was always up for the adventure, and right there when you needed a pal…She was the perfect Golden…
She will forever be in our hearts, and her legacy lives on in the future generations of our Country Goldens…
We love you "Grrrr-Grrrrrr"
You were a Good Girl-
Loyal to the very end…
May you forever rest in the fields that you loved.
| | |
| --- | --- |
| | |
| Fall 2010 | Kate in our Clover Field, TN 2010 |
| | |
| --- | --- |
| | |
| Kate enjoying the snow… | "Can I come in now… and warm up by the fire?" |
| | |
| --- | --- |
| | |
| Kate… watchful mother | Kate with 2009 litter |
| | |
| --- | --- |
| | |
| Teaching puppies the important things in life… | Kate 2009 |
| | |
| --- | --- |
| | |
| Kate snoozing with the goats | Kate keeping cool! |
| | |
| --- | --- |
| | |
| Kate's Grandfather's Pedigree on her sires side | |