Country Goldens Tried and True
Sire: Sky Pride Mikelangelo
Dam: YOUNG RIDGE I Did It My way.
Whelped: September 9,2020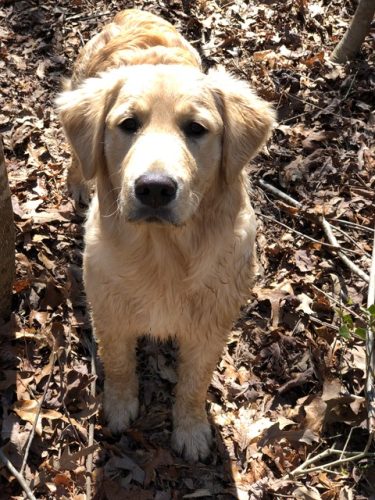 Trudy
Achievements:
Trudy was named after our good friend, Trudy Midas with Espana Silk (All Natural Grooming Products)- these wonderful products are definatly Tried and True… We LOVE our ESPANA!
Trudy is a beautiful girl brought to us from Young Ridge Goldens. She is Half English and half American, with Gold Rush Lines. Her Mom is a beautiful all American girl named "Frankie" and her dad is a Russian Import named "Mikki"
She is a beautiful golden color with a very light undercoat and has dark pigmentation on her face and pads. She has a beautiful head piece and a super personality. She is smart and has that wonderful Golden personality that is so captivating and endearing. Trudy absolutely LOVES Farm Life and all the daily chores and animals.
In her mind, EVERY day is GOLDEN.
Trudy is PENN Hip cleared
EYE and HEART certifications with OFA.
CLICK ON "MORE PHOTOS" ABOVE
Pedigree of "Country Goldens Tried and True"

Parents
GrandParents
GreatGrandParents
SIRE

Sky Pride Mikelangelo      

Sky Pride Mister Masterpiece

 Golden Rose-Bays Nordic Magical Mystery

Sky Pride Mystic

Bleizi Sunshine

Sundapples Magvai

Sky Pride Ganda Astoria

DAM

YOUNG RIDGE I Did It My way.

Canvas Creeks All in the Family

Four Seasons Cast and Crew

Gangway Keep the Noise Down

Young Ridge Autumn Breeze

Gold- Rush Texas Ranger

Gold- Rush Summer Rose